Specifications files
IDCARDplaza has a number of guidelines for the delivery of print files in order to guarantee the quality of your printed card.
We prefer a scalable vector file (Adobe Illustrator or Adobe Indesign)o

r a pdf file with a minimum of 300 dpi and embedded fonts

If you do not use standard fonts or fonts (for example for your logo), also deliver these files as .ttf or .otf file

Color setting preferably CMYK

Only if there is no other option, a png or jpg file with at least 300dpi (for a credit card that is 1015x640 pixels, but preferably much more)
When you design your card or have it designed, we advise you to keep a margin of 3 mm from the edges of the card. All our cards have rounded corners, you do not have to take this into account in your design.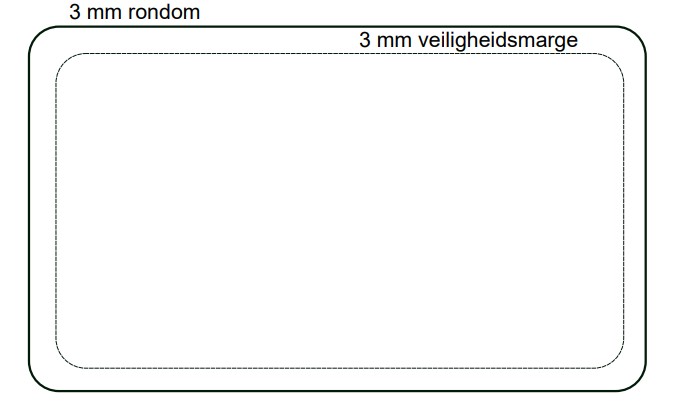 IDCARDplaza charges € 95,- per hour to create your design. We provide free advice about your design and the possibilities.
The color structure of printed matter is standard CMYK, the actual color of the printed card may differ from the color you see on your screen:
Your monitor, digital camera or scanner works with RGB light
The printing process we use works with CMYK (four-color printing) and therefore has a different color range
Designers use expensive, calibrated monitors to judge colors. Most people use a monitor that is too bright. Printed colors then appear pale.
Even if you use CMYK in your design, you should allow for 10% color deviation. 
If you want to be sure of a specific color (for your logo or a specific background, for example), you can use PMS (Pantone Matching System) colors. You are looking for a color on a printed color fan. You then give us the color code. We can have your card printed in the PMS color according to your wishes at an additional cost.
If you would like to add a passport photo or signature to your pass, we recommend that you leave space in the design where you want the photo printed. For a nice gradient between the photo and the print on the card, you can bleed the edges where the photo will be printed. This will soften the gradient between the background and the photo.
You deliver the photos as .jpg, the ratio of a photo is standard 3: 4, with a minimum resolution of 300 dpi, with a unique file name. A different ratio is possible, if you wish, we advise you to take this into account in the design of your card. We do not edit the photos, the quality you provide will be printed on your card. It is important to take this into account when submitting your photos.
The other information for personalizing the cards such as name, student or staff number, and photo file name should be supplied in an Excel file.
On the basis of your submitted files, a (digital) proof will be sent to you for approval the first time. We ask you to always check your proof carefully for inaccuracies before giving your approval. After your approval, we start production and are not liable for inaccuracies. 
If you have any questions, please do not hesitate to contact us. We are happy to help you.