Customized cards  
IDCARDplaza personalizes your cards and prints them with your logo and other details according to your corporate identity. This way you can easily create a loyalty card, gift card, membership card or student card that fully matches the image of your company, club or educational institution. 
At IDCARDplaza there are many options at an attractive price with which we can meet your needs. 
You specify which options you want (chip, printing, personalization) and the number of cards (from 200 pieces). We will give you a preliminary quote for your own tickets. 
If you would like to order, please provide us with your requirements along with your logo, artwork or card design. 
Based on the design supplied by you, we make a (digital) proof which you will receive by email for approval. We will only start producing your fully personalized cards after your approval. You will then receive an order confirmation with the expected delivery time. The delivery time for this type of card is around 3 to 4 weeks.
What are the specifications of the artwork files? Guidelines for print files
Options to personalize your card
There are many options to personalize your card. Do you want a regular PVC card, or a card of other material. Do you need a contactless chip or a magnetic strip? Do you need a number or barcode or QR code? When personalizing, you can think of: 
Passport photograph

Personal data (name, class, team, department, location) 

Hologram 

Magnetic strip 

Scratch layer 

Signature field 

Barcode 

Contact chip 

RFID chip 

Numbering (for example a unique sequence, or the chip number)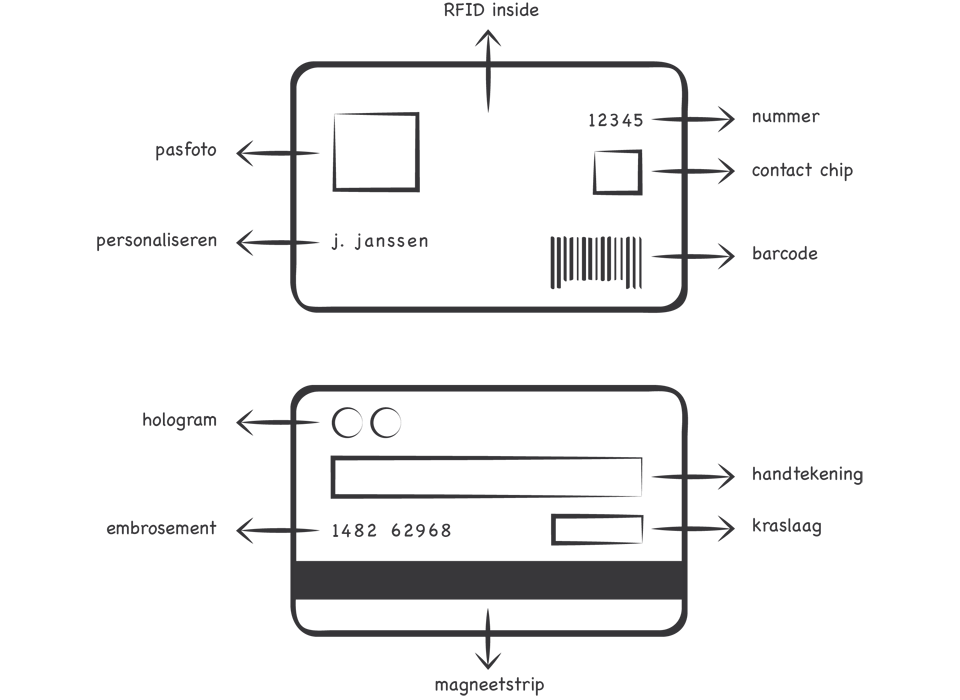 You can fill in the positioning of the personalization as you wish when you design your card, or we can help you with that. 
Chip
At IDCARDplaza it is possible to add a chip to the card as desired. We supply all low frequency 125KHz, high frequency 13.56MHz, and ultra high frequency 860-960MHz chips available in the market. 
A chip enables applications such as: 
Access control 

Use as a key for lockers and cupboards 

Use as identification for time recording 

Loyalty cards 

Memberships with balance for consumptions 

Canteen or coffee passes with balance 

Savings cards 
We supply the ISO14443, Mifare 1K, Mifare Desfire EV1 / EV2, NTAG 213, UHF 868MHz or Hitag S2048 chip, but also others. Call us with information about your card readers and software for appropriate advice. 
IDCARDplaza can program your chip as desired or register the UID (the unique identification code of the chip) in an Excel file during production so that you can easily load it into your software. 
If you require help with choosing the right chip or if you have another question, please contact us (link to the contact page). We are happy to assist you. 
Barcodes and QR codes 
A barcode or QR code is useful for quickly linking a card (number) to a person, for example when the card is issued. 
Call us to discuss whether a barcode or QR code is useful for your application. Barcodes are widely used in libraries, shops, hospitals, and logistics. Various encodings are possible. For example, the Code 28 is often used in libraries, a KIX code within Postal Companies and an EAN 13 is regularly used in retail. Would you like to know more about how you can use barcodes within your company or institution? Then you can of course contact us or read more via the following link: More information about barcodes
Here a picture of a card with a barcode 
A QR code can also be an option. A QR code can contain more information, such as a (personalized) link to a website. If that code is scanned with a mobile phone, the correct page will open immediately. QR codes have more redundancy, which means they are more resistant to damage than a barcode. QR codes are useful for business cards, in shops, or in the hospitality industry. 
Here a picture of a card with a QR code 
Magstripe
Magnetic stripes/tracks are nowadays only specified if existing reading equipment is in use. That equipment determines what kind of magnetic strip and coding you need.
Data is written on a magnetic strip according to one of the applicable ISO standards, and on one of the available tracks. Read more here: Magnetic stripe card. 
In terms of magnetic strip, you can choose between a HiCo or LoCo strip. The main difference between HiCo and a LoCo magnetic strip is that a HiCo magnetic strip is encoded with a stronger magnetic field, making the HiCo magnetic strip safer when sensitive information is processed on it. For example with a bank / credit card, membership cards and driving licenses. A HiCo magnetic strip is chosen when a card is used for a long time and frequently because the HiCo magnetic strip is more durable than a LoCo magnetic strip. 
The LoCo magnetic strip is less durable, but is therefore a lot cheaper from a price point of view. A LoCo magnetic strip is therefore generally used for gift cards, hotel room keys in the form of a card or telephone cards. 
Here a picture of a card with a magnetic strip 
Security features 
A hologram is a specific printing technique in which a 3-D effect is created on a flat surface, which is not the copying by means of a scanner or copying machine. This gives an extra security to the card, which is often used in identification proofs. IDCARDplaza can have your card provided with a hologram. 
Here a picture of a card with a hologram 
Embossing is another printing technique in which the data is printed in the card by stamping, creating a 3-D effect on the pass. In the past this was used to make a paper copy of the card for credit card transactions. However, this technique is not used much anymore because there are several more modern options for installing a security on the pass. 
What other options are there 
IDCARDplaza can adjust your card in many ways, but you also have options when it comes to the card itself. For example, you can choose from different colors of PVC suits such as black, yellow, blue, purple, pink, green, red, orange and much more. These cards are of course less suitable for printing and personalization. 
Here a picture of different colors of PVC fit 
Not only PVC cards are possible, there are also several environment friendly options including; wood, cardboard, paper, corn and bamboo. But also less impactful plastic types such as PET and PETC. We would more than happy to inform you about the possibilities. 
Here a picture of an environmentally friendly pass 
Applications of the cards
Due to the many options that are possible, IDCARDplaza's cards can be used widely. IDCARDplaza's cards are recurring in all kinds of industries. The IDCARDplaza cards are used, among other things, as: 
Student card

Fuel card 

Electric charging card 

Membership card 

Gift card 

Loyalty card 

Library card 

Visitor pass

Savings card 

Employee card 

Club pass 

Policy card 

Keycard 
Here are examples of cards made by IDCARDplaza. 
Fulfillment options 
In addition to printing and personalizing your card, IDCARDplaza can also take care of your mail packs, so we take care of the shipping of the cards. 
For example, IDCARDplaza offers the possibility to personalize pre-printed cards locally with us. 
We offer you a upload facility, where a CSV file with a customer or account number, and personalization data and optionally passport photos can be delivered securely. The personal data is stored in a secure Microsoft SQL database. The data is only stored for a short time after processing, after which it is deleted, in accordance with the processing agreement. 
This procedure is fully in accordance with the GDPR guidelines and is therefore suitable for processing privacy-sensitive information such as personal information, passport photos and other data, for municipalities, educational institutions and sports clubs. 
Automated return of the card number or UID of the issued chip, linked to the customer or account number for processing in your systems is also possible. 
After personalization, IDCARDplaza offers the service to prepare the cards for sending, printing the letters and matching the cards with the corresponding letter and addressing. Your cards are then presented to us by post. This means you no longer have to worry about your steps. Call us to discuss the options. 
IDCARDplaza has decades of experience in printing and personalizing PVC cards. 
We work together with: 
I would only include some customer logos here